Calendar 2017
Our Calendar for 2017 is coming up soon. Email us: friendsofthetrail@yahoo.com
if you need information on FOTT events.
Stewardship Funding in Batawa - Sat Sep 23, 2013
BATAWA/ Batawa Development Corporation property supervisor Jeff Leavitt and the Friends of the Trail president Bill Gray gathered to thank Matt Caruana, Hastings Stewardship Council co-ordinator for recent funding that supported the planting of a new wildflower garden in Batawa. With these funds, along with volunteer and BDC staff efforts to plant and weed, a new wildflower garden can be found at the intersection of of Parry Drive (in Batawa) and the Lower Trent Trail, which runs from Trenton to Glen Ross.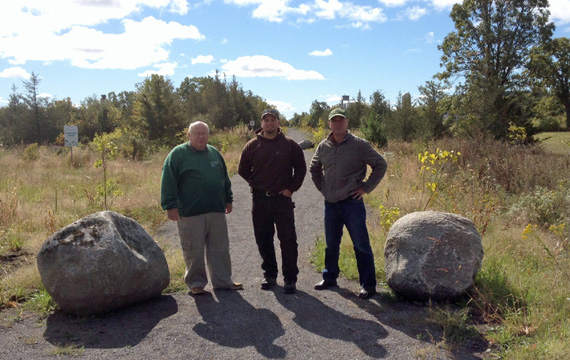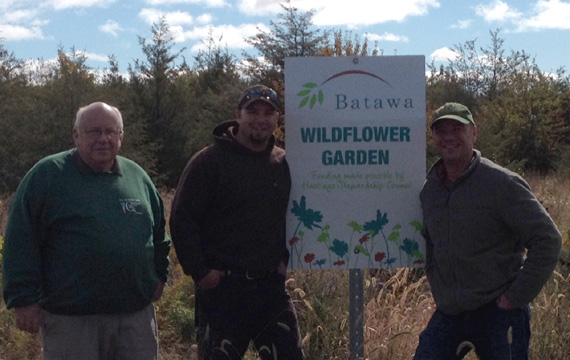 PHOTOS: Bill Gray (Friends of the Trail), Jeff Leavitt (Batawa Development Corporation) and Matt Caruana (Hastings Stewardship Council).
Previous News Titles
Sep 2013 - Annual Flea market generated $895.70, thanks everyone!.
Sep 2012 - Annual Flea market a great success.
Apr 2012 - Tyco Thermal Controls donation of $2000.
Jul 2011 - Grant from Union Gas $1000.

IN MEMORY OF A RAILROADER DAD
When George Whitman was a youngster, his Dad used to drive the iron ore train down the former CN rail line which is now the Lower Trent Trail.
George who lives in Stockdale, uses the trail on a frequent basis as a running route and says that the trail holds special memories of his father for him.
"I always said that one day I would plant a tree on the trail, in memory of my Dad," George told us.

On Saturday, April 30th George came to volunteer for the Community Tree Planting Project.
The project, a joint partnership of Quinte West, Bata Development Corporation and Friends of the Trail Inc. was undertaken to remediate the section of the trail disturbed by the water main installation from Frankford to Batawa.
As George dug his shovel into the ground to plant his first seedling, he saw a forgotten rail spike several feet away lying in the dirt.
George said that it just seemed right to put that rail spike next to the seedling as a memorial to his late Dad.

We are delighted to have this special tribute to George Whitman Senior and the railway history, as part of the trail.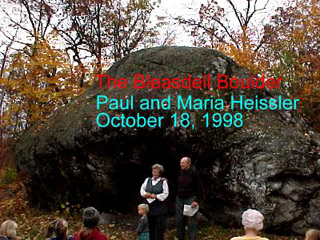 The Bleasdell Boulder Conservation Area is now connected to the Lower Trent Trail!
The Friends of the Trail Inc. partnered with the Lower Trent Conservation Authority in 2010 to build a 800 metre link between the two sites. The link provides an easily accessible scenic loop for trail walkers and hikers and opens up the Bleasdell Boulder to more visitors coming in off the Lower Trent Trail.
Read full story...
Press Releases
QCAN honours Roy Ingram with memorial bench, Aug 2011

Grant from Union Gas, Jul 2011

Bridge Deck, Jun 2011

Tree Planting 2011 Post Event - Tree Planting 2011

Earth Day 2011

OTF Grant Awarded 2010

Earth Day 2010

McCurdy Chevrolet-Buick-GMC Ltd. 4th Year Sponsoring Golf Tournament
Calendar of Events
2014 Event Calendar

2013 Event Calendar

2012 Event Calendar

2011 Event Calendar

2010 Event Calendar

2009 Event Calendar

2008 Event Calendar
Annual Report
2013 Report

2012 Report

2011 Report

2010 Report

2009 Report

2008 Report

2007 Report

2005-2006 Report
Volunteers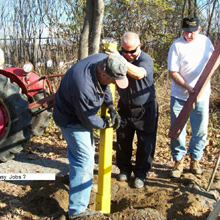 We welcome volunteers for all events. High School students can earn Community Hours by volunteering with Friends of the Trail. If you enjoy the outdoors, why not join us for a day on the trail. Come and help make the trail an enjoyable place where you can walk, run, hike, bike and in the winter ski or snowshoe. Join the Trash Bash, help with trail maintenance, join in the fun at the Flea Market or work at the Golf Tournament. Email us for more information.

Click for current volunteer opportunities.